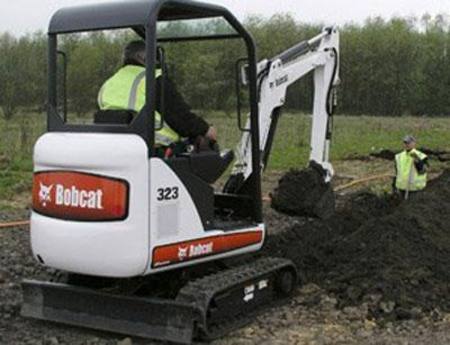 Bobcat 1.5 tonne Digger
Minimum Half Day Hire $75 + fuel
Minimum Day Hire $140 + fuel
Engine Hour $40 + fuel
Auger $25 1/2 day $40 full day
Tilt Bucket $25 half day $35 full day
The charge for diggers will be the engine hours used, or minimum 5 hours or 24 hour charge, which ever is the highest
Prices include GST and comes with a full tank of fuel. Long term options also available, please contact us for pricing.
Description
Bobcat 1.5tonne Excavator with 3 buckets: 250mm, 450mm 900mm. This excavator is on its own trailer which is easily towable with a 2.5tonne rated vehicle.
Other attachment available with this digger is Auger to drill all your holes. Measurements for augers are 200mm, 300mm, 450mm or 600mm.
Specifications
Width Track (in) 980mm
Width Track (out) 1363mm
Vertical Reach 3743mm
Digging Depth 2602mm
Digging Reach 4276mm
Safety Sheet
http://www.tkhire.co.nz/content.asp?syscmd=dl&ID=0A68FE6C9FB9473AABD1BEB6C4E9871D
---